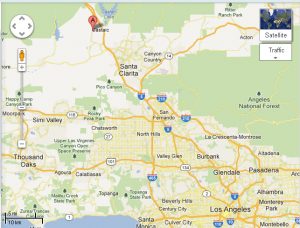 Directions To VT Ranch
VT Ranch Address: 30910 S. Sloan Canyon Rd.,
Castaic, CA 91384
Take the Freeway 5 North or South , Exit Hasley Canyon Rd.
Turn Right (north) on Old Road
Turn Left on Hillcrest Parkway.
Turn Right on Sloan Canyon Road (Dirt Road at the end of Hillcrest Parkway)
Continue for a 1/2 Mile -VT Ranch is located on the right hand side.
Parking is located outside of the archway.
Directions From Los Angeles
Take I-5 Freeway North to Santa Clarita
Take Hasley Canyon exit off I-5 Freeway
Turn right on Old Road
Turn left on Hillcrest Parkway
Turn right on Sloan Canyon Road
Entrance is on your right hand side
Directions From San Fernando Valley
Take 405 Freeway North
Merge on to I-5 Freeway North to Santa Clarita
Take Hasley Canyon exit off I-5 Freeway
Turn right on Old Road
Turn left on Hillcrest Parkway
Turn right on Sloan Canyon Road
Entrance is on your right hand side
Directions from Ventura County
Take CA-126 Freeway East
Merge on to I-5 Freeway North to Santa Clarita
Take Hasley Canyon exit off I-5 Freeway
Turn right on Old Road
Turn left on Hillcrest Parkway
Turn right on Sloan Canyon Road
Entrance is on your right hand side