Chumash Living History Program

Hands-On Chumash Native American Program

Meets History Social Science Content Standards 3.1, 3.2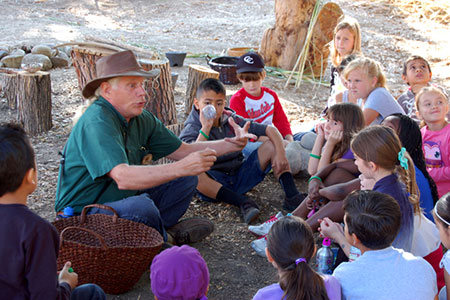 Learn about the history of the Chumash in your own backyard. The Chumash Indians were some of the first inhabitants of North America with their numbers exceeding 20,000 along the California coastline at one point. Their culture is rich with traditions that can be studied hands on at VT Ranch and the SCVOSC (Santa Clarita Valley Outdoor Science Camp).
The Chumash were able to enjoy a more prosperous environment than most other tribes in California. The Chumash Indians were hunter-gatherers, and very good fishermen, thus they recognized their dependency on the world around them. The Chumash believed that every rock and tree, animal, and living being, mountain and marsh had a spirit, as did the wind, the clouds and sky, the sun and the moon. They believed that these spirits could communicate with one another.
Join us in celebrating the world of the Chumash.
As a part of our Hands-On Field Trip, students will:
Work in a Chumash village
Learn to paint Chumash symbols
Learn Tribal Stories and Beliefs
Participate in Native American Games & Activities
Make Yucca Paintbrushes & More!

Includes use of our picnic area available before or after your classes program
2 1/4 Hour program, Start times:
October through December: 9:45 a.m.
January through May: 10:00 a.m.
Program Rates:$17.00 Per Student
Chaperones are $9 each.
Teachers are FREE!
*Base price before extra activities
Ask about special transportation prices from Brooks Transportation